Marisol


Basic/General Character Information
Born:
1970s
Gender:
Female
Family/Personal Facts
Family:
unknown brother
Career/Job/Education
Series Appearances
First Episode
Charity
Last Episode
Girls Night Out
Played by:
Tonantzin Esparza
Marisol (played by Tonantzin Esparza) is a worker at Powers Brothers Aviation. She had a boyfriend named Junior and she needed a place where Junior couldn't find her because he physically abused her. So, Angie asked George to hire her as a good deed. She is known for having an attitude problem and for being very rude to people. She told Ernie that he has big ears, told George that he has a big head, and she answered the telephone saying "Hello, Powers Brothers Aviation. How can I help your ass?". Marisol has a catchphrase "I know, huh." Benny likes the way Marisol treats people. Marisol got George in trouble to the Powers Brothers for not responding to important calls. She took Carmen to a club over Carmen's curfew and got her grounded, as she was only helping her to stand up to mean kids who were teasing her in her old school. When Angie finds out, she is upset Marisol betrayed her faith and they argue before Angie walks out of the room.
Marisol then sincerely apologizes outloud for hurting Angie's faith and putting her daughter in danger before she promises to make up for it. Overhearing this, Angie quickly comes back in the room and accepts her apology while promising to find somewhere for her. They decided to forgive her by sending her to a nice, loving home, (Benny's House) George believes that she is an ex-gangbanger.
In the end of the Valentine's Day special episode of George Lopez, Ernie makes Marisol leave George and Angie's house after calling off his bargain of getting the money with her.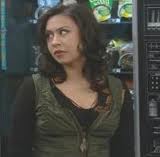 Appearance
Marisol wears very vibrant clothes and wears a lot of makeup. George once said she had the dead eyes of a shark. He also said that if she washed off all of her makeup she would look scared.
Episodes