Jack Powers

Jack Blessing as Jack Powers.
Basic/General Character Information
Born:
Los Angeles, CA, U.S.
Gender:
Male
About:
More of the disciplinarian than brother Mel, who co-runs the company with him; Has trouble controlling son Zack, who briefly dated Carmen
Family/Personal Facts
Family:
Mel Powers (brother)
Lou Powers (brother)
Zack Powers (nephew)

Career/Job/Education
Career/Job:
Co-owner/Co-President, Powers & Sons Aviation, Los Angeles, CA
Series Appearances
First Episode
"Prototype" (Series pilot)
Last Episode
"George Decides to Sta-Local Where It's Familia" (Series finale)
Played by:
Jack Blessing
Appeared on:
George Lopez (TV series)
Episodes appeared in:
20 in Seasons 1-6
Jack Powers is a recurring character who appears in a total of twenty episodes of George Lopez throughout the shows' network run. The part of Jack is played by Jack Blessing.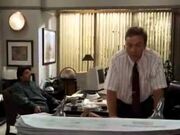 About Jack
Jack is one of George's bosses, the other being his brother Mel Powers, who are co-owners and presidents of Powers & Sons Aviation, having inherited the company from their dececased dad and uncle, who founded it in the 1940's. The two brothers have had many disagreements over the years, but usually are able to find common ground and agree on key company decisions, with the one exception which almost split the company into two. ("Split Decision", Season Three. episode #6) when George gets in trouble when he lets it slip that Jack, who has a notorious reputation at the plant of being a womanizer, went to Vegas with Mel's ex-wife while they were still married.
Jack is more of the enforcer of the company rules than Mel, who seems to be better at negotiating contracts for the company, as in "Dubya, Dad, and Dating (Part 1)" in Season 3, he makes George cut his hair after President Bush visited the plant, because he thought it was too long, and also confessed that he saw George take the president's speech off of its podium, from the plant video survelliance VHS tape, after the president and the Secret Service forgot it when they were leaving the plant, as he said he also saw "Randy and some "litte guy" (which was actually Benny!) making out in the storeroom!".
Somehow the two brothers were able to make up and keep the company intact, just as Powers Aviation was considered for a US goverment project.