Amy Kirkland


Basic/General Character Information
Nickame(s)
Accident Amy, Accident Prone Amy
Born:
c.1972
Gender:
Female
About:
Loopy and accident prone ex-employee who returns to the company after being hospitalized after getting her arm caught in one of the machines
Vies with Benny Lopez over the affections of Randy, whom Benny was engaged to
Family/Personal Facts
Family:
Kimmy Kirkland (daughter)
Domestic partner(s):
Randy McGee (ex-boyfriend)
Career/Job/Education
Series Appearances
First Episode
"Happy Birthdays"
Last Episode
"Bachelor Party"
Played by:
Sandra Bullock
Appeared on:
George Lopez (TV series)

Amy Kirkland, was a recurring character who was nicknamed "Accident Amy" due to always getting into accidents. The part of Amy is played by series co-executive producer Sandra Bullock.
Personality
Sandra is kinda loopy and accident prone. She can also be quite competitive.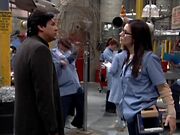 Biography
She left Powers Aviation for a while because her arm got crushed by a machine. When she returns to the plant after recuperating and collecting Workers' Compensation rehabing, it was found out that she and Randy, Benny's new beau, and their co-worker, were dating before he started dating Benny. But, before Randy and Benny, who, by this time are engaged, and were about to get married, Amy showed up at the bachelor party and made Randy leave Benny jilted at the altar. This was the last appearance of Amy.
Appearance
Amy kept the same appearance in Seasons 1 and 2, hair with a red hue and Horn-rimmed glasses. In Season 3, her appearance changed. Her hair is now a lighter red hue and she has gone blind and wears glasses.
Gallery